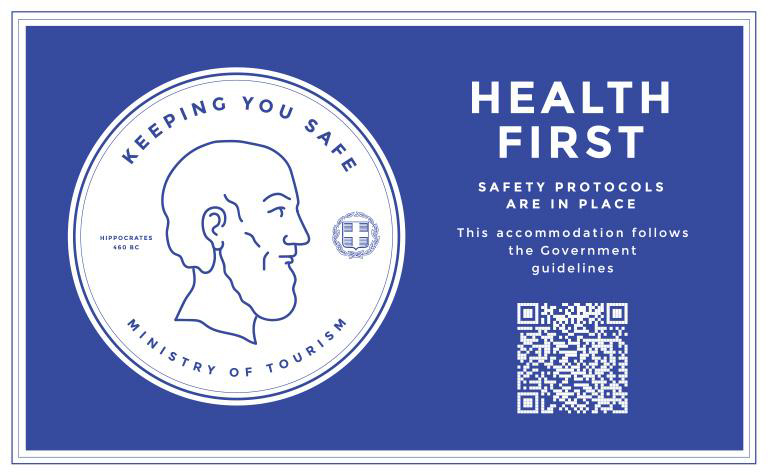 Health Protocol
With a strong sense of duty, responsibility and impeccable professionalism, 2S Villas Resort is focused on the health and safety of both our guests and our staff members, more than any other time in the past
HEALTH PROTOCOL
2S Villas Resort has developed a protocol to take measures, prevent and manage suspected Covid-19 cases in order to limit the spread of the virus to staff and guests. The plan is confirmed by the recommendations of Greece's public health organization – EODY.
2S Villas Resort informed all stakeholders (employees, guests, contractors, suppliers) on the measures of the plan.
Suspected Case Management Plan
According to the recommendation of EODY our company has appointed a health coordinator (Dimitris Bokos) to supervise that protocol is being followed and will act on the instructions of EODY for testing suspected cases of Covid-19. The Health coordinator communicates directly with EODY at 210-5212054 or the four-digit number 1135 for the evaluation of the incident by a doctor and follows the instructions that will be indicated to him.
Villas and outdoor spaces
All villas of 2S Villas Resort are private, autonomous buildings with separate, personal entrances. No physical contact with other tenants is possible.

The villas are self-catering and fully equipped, enabling tenants to avoid unnecessary public contacts.

The swimming pools and outdoor spaces of the villas are fully private as well. The maintenance of the pool and disinfection is carried out by certified professionals.

There is no physical contact with public spaces (reception, lobby etc.) during arrival and stay. Guests are led directly to their villa.

We follow increased and rigorous cleaning and hygiene protocols: All inner and outer surfaces of the villa, as well as the equipment and objects, are cleaned and disinfected after each check-out.

Each villa is equipped with A/C units, with a washing machine and dishwasher certified by a technician for their suitability and proper operation.
Staff Members
The staff is aware of how the Covid-19 virus is transmitted and able to provide information to guests.

Employees provided with personal protective equipment (masks, gloves, shoe covers).

The staff has been trained in accordance with the social and hygiene principles set by the WHO and local authorities. Regular staff updates ensure adequate information about COVID-19
Cleaning and disinfection
2S Villas Resort implements improved disinfection and deep cleaning practices in accordance to EODY instructions.

In addition to the normal cleaning, all the "high-frequency "touch points" (door/window handles, kitchenware, toilets and other points of common contact) are being sanitized and disinfecte.

Hand sanitizers are present in each villa.

Guest rooms are receiving additional cleaning upon departure, paying particular attention to touch points.

The cleaning is done on a case-by-case basis either by following the un- occupancy gap between departure and next arrival when possible or by using the instruction on even more meticulous cleaning and disinfection with a steam cleaner (> 70°)

We apply first the process of disinfection spray and meticulous cleaning afterward.

The midweek cleaning and change of sheets, pillowcases and towels is carried out ONLY upon request from guests.

We have removed from villas, every object such as extra pillows and shared multi-purpose items.

TV controls have disposable covers.

Fabric surfaces (e.g. furniture upholster) are cleaned with a steam appliance (> 70°).

Customer information with special marking on when and how the room was cleaned.
The Guests
Antiseptic for the guests is provided in 2S Villas Resort.

Staff members are keeping the appropriate distance (at least 1,5 meters from customers.

When requested, staff is capable to inform guests on the 2S Villas Resort's rules and the new measures taken.

For any case of emergency, a medical kit is available which includes disposable gloves and masks, antiseptic, cleaning wipes and thermometer.

Staff is able to identify symptoms and report them to the health coordinator.

All keys are disinfected
We welcome our guests to our villas with warmth and hospitality. Above all we would like to reassure you that the safety, health and well-being of our guests and staff always has been, and always will be, our number one priority.
Stay safe! Summer is here already waiting for you!
We remain at your disposal and we are looking forward to welcome you!
T +30 693 653 1852

(T. +30 693 707 4146)